Let's first get our facts straight…
Myth #1: I Will Never Have Six-Pack Abs…
Fact: We All Have Six-Pack Abs! But the question is whether we can "see" them or not; because they are buried under layers of body fat. In other words, if your body fat percentage is not low enough, you won't be able to see what you're packing underneath.
So, you want to show off your abs? Then, you need to train your abdominal muscles like any other muscle; and also burn off the excess fat with a low-calorie diet and a consistent work-out regimen that incorporates a solid dose of cardio into your strength training routine.
Myth #2: We Can Lose Belly Fat by Doing Lots of Abdominal Exercises…
Fact: We Can NOT Spot-Reduce Fat! "Spot-reduction" is the attempt to remove fat from a "specific area" of the body by performing exercises that target that spot. So if you have belly fat, exercising the ab muscles will make that fat go away, right? Wrong!
Many people start working out with specific goals of making their arms/hips/abs look better; and they become discouraged when they cannot see rock-hard abs from doing a million sit ups, or toned thighs from doing a million squats. Why? Because, we cannot target a specific area for fat loss. While exercising the muscle may increase endurance or strength, it won't burn off the fat in that area. The fat comes off wherever it chooses. That place can be your stomach, or it can be your arms or thighs. Therefore, in order to lose stomach fat, you'll have to lose body fat all over; and the healthiest way to do that is with consistent exercise (cardio & strength training) combined with a healthy diet.
My 10 Favorite Ab Exercises for a Stronger Core:
Please remember to maintain a "proper form" during all exercises.
a)         Protect your back. Do not raise your upper body so far that you pull your lower back off the floor. Avoid excessive arching of the back.
b)         Keep your abdominals tight and pull your belly button in as if you were trying to touch your belly button to your spine.
c)         Remember to breathe. Do not hold your breath since this can increase blood pressure. Instead, inhale between each repetition and exhale as you perform the movement.
d)         Start out slow and gradually increase your range of motion.
1) PLANK
2) SIDE-PLANK
3) SPIDERMAN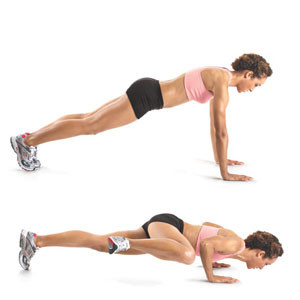 4) MOUNTAIN CLIMBER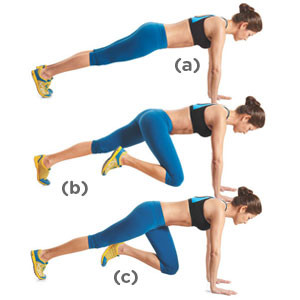 5) CABLE ROTATION
6) SWISS BALL ROLL-OUT
7) V SIT-UP
8) BICYCLE CRUNCH
9) REVERSE CRUNCH
10) DEAD BUG